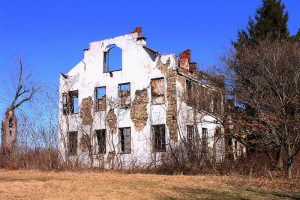 Once we identified a few houses we might be interested in, we asked our Realtor if we could visit them.
First we sat together and looked through the pictures, checking the descriptions and the locations on the map. Since location was one of our main criteria, we discarded a bunch of houses that, while in our desired neighbourhoods, were too far from places of interest. Some others look terrible in the pictures; a few were discarded simply because the pictures showed them to be in bad condition, meaning they'd need lots of renovations before being usable.
We divided the remaining houses into "top picks" and a secondary list of "maybe"s which we didn't outright discard. But we decided to focus first on the top picks.
Depending on how active the market is, some of the houses may be sold before you get a chance to see them. Three of our top picks were in this situation, narrowing down our list.
We send the listings to our realtor who then arranges for the visit which is done in the presence of your realtor; the house may be shown by the current inhabitants or by the selling agent. Having the realtor there was a good advantage because she pointed out many aspects we could have overlooked: potential for expansion, whether the doors/windows look new, any superficial evidence of damage or poor construction, things that may need changing or considering, and so on.
Once you've visited a few houses and formed a mental picture of what you liked and disliked about them, you can think about whether any of those are convenient for you. After seeing them, you have all the facts (and the subjective opinion you may have on each of them) and can do an analysis to see if any of those satisfy your criteria. If none do, then just keep waiting! One thing we observed is that new listings pop up almost daily (and the good ones are snapped up quickly), so don't feel too rushed if you don't find a house you like among current candidates. The houses you do see will allow you to clarify your needs and desires, so that when the right one comes along, you'll be ready to move quickly.
We looked at 4 houses:
One had a very nice garden and lots of land and potential, but had a lot of moisture and foundation problems and was really really far.

Another was move-in ready and had a very convenient layout, as well as a dog-friendly and big garden, but it was at the very top of our budget plus was quite far from most of the amenities we like.

A third one was beautifully renovated and move-in ready, and was quite close to transit and favoured amenities, but it had no room for growth as it had only a small front yard.

A fourth one was relatively well-kept and renovated,  close to amenities and transit and while it had only a front yard, it was quite large and left a bit more room for growth. But the spaces were very untraditional and tailored to the specific needs of the inhabitants (which didn't necessarily match our needs).
As you can see, all houses have their pros and cons. If you find one that has no cons and is within your budget, by all means go for it! But more often, it'll be a game of compromise and deciding which aspects are more important to you and which ones can be overlooked or postponed.
Remember there are two things you can't change about the house: the location, and the plot of land it sits on.
There's one thing that's difficult to change: the general structure or "bones" of the house (although if sufficiently motivated, you can always tear it down and build anew).
Most everything else can be tailored to your needs, given enough time and money.