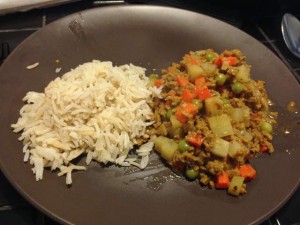 Picadillo is a traditional Mexican recipe, usually made with minced meat.  Seitan, however, makes a great substitute for minced meat, and since most of picadillo's flavor comes from the sauce and reduction process, the flavor stays mostly similar.
Ingredients
Half a kg of Seitan (here's the best recipe we've found – can be made well in advance as it keeps nicely in the fridge).
One large potato, diced
Two large carrots, diced
One cup cooked green peas
Two cups of vegetable broth
Two or three tomatoes (about 500g worth)
Two garlic cloves, finely chopped
One quarter onion, finely chopped
1 teaspoon olive oil
Serves 6-8.
How to make:
Mince the seitan: Chop it into small dice, then run in small batches through a food processor on high, until you get a size similar to cooked, minced meat.
Prepare the sauce: Put the tomatoes, garlic and broth in the blender, blend for 1 minute or until smooth.
Do the thing: On a large (5L or more) pot, fry the onion with the olive oil until transparent. Once fried, dump the seitan, potato and carrot dice in the pot, dump the sauce and stir (it should initially look like a stew – if it's drier, make some more sauce and add it to the pot). Set the heat to medium-high, bring the mixture to a boil and let simmer until the liquid is consumed and the carrots and potatoes are soft. BEWARE, there'll come a point where you will need to start stirring to avoid burning the bottom part of the stew. This will happen even if the top seems to have enough liquid, so keep an eye on it. It should take 20-25 minutes to evaporate the sauce to the desired consistency.
When done, stir in the already-cooked green peas (so they remain firm, if you cook them in the stew they'll go mushy).
Serve with white or red rice, or with corn tortillas.