As Uber's Jump electric bike offering arrives in Montreal, a very common sight starts appearing: Orange Jump bikes parked everywhere: in parks, on sidewalks, tied to private property or public structures, sometimes blocking the way for pedestrians.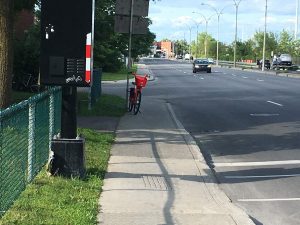 Uber's permit stipulates that bikes have to be parked in designated spots only; a "designated spot" is a bike rack, not any random pole or fence. Of course, users park where convenient, and of course, Uber always washes their hands from any responsibility by claiming "it's the user's responsibility to park bikes in the appropriate spot". Yet, for all their billions of dollars and technology, they are unwilling to enforce in any way compliance with the permit the city has granted.
I say "unwilling" because it's entirely feasible to use technology to ensure compliance. I gave this some thought and came up with at least 3 solutions in 5 minutes. The solutions use technologies that are well within Uber's reach and areas of expertise. They could locate and identify the allowed parking spots and areas and disallow releasing a bike unless it's properly parked, which can be done either by analyzing Google Street View imagery (using AI, with which Uber is quite adept), sending a human to actually note locations of valid parking structures, or using AI to identify common and likely parking spots, based on density and frequency of bikes parked nearby.
Interestingly, a much smaller company (Lime, the electric scooters) has also just arrived in Montreal, with similar restrictions as to where scooters can be parked. They came up with yet another solution: upon finishing a ride, one must take a picture of the scooter, showing it is correctly parked in a designated area, and upload it.
That very simple solution is easy and cheap to implement, and it keeps users honest while ensuring everyone complies with the conditions set by the city. Honesty, however, is something that escapes Uber; it's been shown time and time again that they will do the bare minimum necessary, and sometimes not even that if they perceive that the level of enforcement will allow them to get away with just shifting blame to users.
In my opinion, the city should mandate that Uber implement measures to curb badly-parked bicycles, seize badly-parked bikes and impose hefty fines on each one that is found, and ultimately (because these measures will NOT make Uber relent), just rescind their permit. A predatory, disrespectful company like Uber should NOT be allowed to operate in our city.